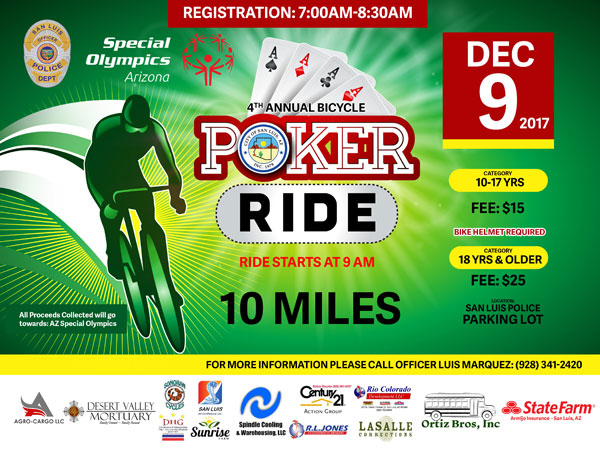 Bicycle Poker Ride
The San Luis Police Department is inviting you to be part of the 4th Annual Bicycle Poker Ride on Saturday, December 9, 2017 to benefit the Arizona Special Olympics. Attached please find the registration form.
With your continuous support, sponsorship, and participation the San Luis Police Department has been one of the top 10 fundraising agencies for the state. We thank you in advance for your continuous support and participation in all of our events.
Please contact Officer Luis Marquez for more information at 928-919-5855. NOTE: All Law Enforcement agencies wanting to participate please contact Officer Marquez for additional information for this event (LETR – AZ Special Olympics).
Category 10-17 yrs: Fee $15
Category 18 yrs+: $25
Hourly Schedule
7:00am

-

8:30am

Registration
-

9:00am

Race Starts