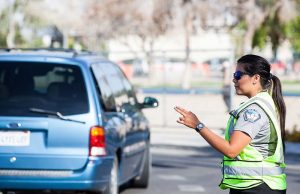 The Traffic Enforcement Unit (TEU) consists of three full-time motors units, one full-time and four part-time Transit Enforcement Officers. They are responsible for investigation of traffic collisions and traffic related crimes/incidents. The TEU is also responsible for the enforcement and maintenance of all parking meters located at the city's business area. They are also responsible for traffic control device set up and the control of traffic on Main Street.
The motors units currently operate 2014 STC1300 Hondas and 2005 Harley Davidsons.
 Monday-Sunday 8:00am to 9:00pm
 50¢ /Hour
All meters accept credit/debit cards and coins including currency from Mexico.
Time limits at metered locations can range from 6 minutes to as long as 6 hours. The parking time limits are posted on each meter.
Parking longer than the allowable limit may result in a fine per San Luis City Code 72.36.
The City of San Luis operates approximately 90 parking meters in the downtown area. The goal of good parking management is to regulate the parking spaces in a manner that ensures that a percentage of spaces are available at any given time for short term parking.