The San Luis Police Criminal Investigations Section, also known as detectives or investigators performs various tasks related to investigating criminal cases. The San Luis Police Department has detectives with sub-specialties in investigating suspicious deaths, sexual offenses (sexual assault, child molestation, etc.), aggravated assaults, crimes against children, armed robberies, officer-involved shootings, and other heinous crimes. While investigating a case, detectives process a crime scene, gather evidence, interview the victim, witnesses, and suspects, and collaborate with prosecutors to have a successful case. Detectives stay up-to-date with the latest technology and investigative techniques to remain effective and utilize all available resources for problem-solving, tracking down, and apprehending suspects, accomplices, and fugitives.
ICAC (Internet Crimes Against Children)
The San Luis Police detectives are part of the Internet Crimes Against Children (ICAC) Task Force Program. Detectives protect children from sexual predators by investigating those manufacturing and distributing child pornography on the internet. To make a report on the online exploitation of children, please complete a Cybertip Report via the National Center for Missing & Exploited Children (NCMEC) website.
The Criminal Investigations Detectives are the main point of contact with Amberly's Place Family Advocacy Center, offering immediate crisis intervention and on-site medical attention to child abuse, elder abuse, domestic violence, sexual assault, and human trafficking victims. Detectives attend several Amberly's Place meetings incorporated by all Yuma County, other adjacent law enforcement agencies, and prosecutors to enhance operations.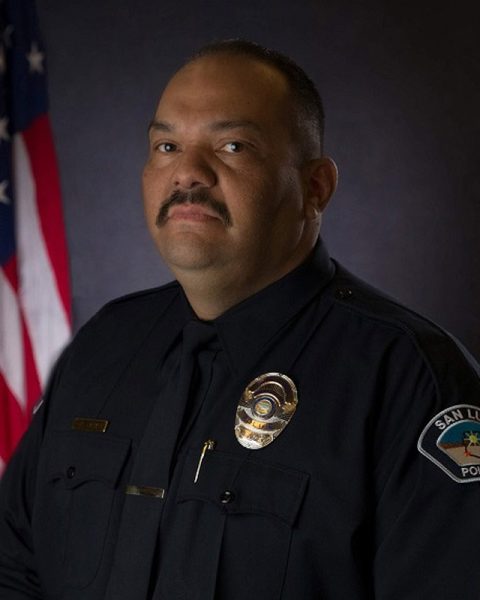 Lieutenant
Alan Guevara
Lieutenant Guevara began his career as a Communications Officer in 2004. After graduating from the AWC Law Enforcement Training Academy in 2011, he was appointed as a Police Officer for the San Luis Police Department.
Lieutenant Guevara's previous assignments include being assigned as a supervisor for the Crime Suppression Unit (CSU) as well as a supervisor assigned to a patrol squad. Lieutenant Guevara is a certified AZ POST General Instructor, and was certified as an Emergency Medical Technician (EMT) and Tactical EMT.  Lieutenant Guevara has also served as a Field Training Officer, Bike Patrol Officer, and was a member of the Special Enforcement Unit (SEU). He has previously served as a Volunteer Program Coordinator, Reserve Program Liaison, and Citizens Academy Liaison.